Leaping rabbits and hares have a real Spring feel about them don't they? I've been doodling them forever, so I thought I'd put them to good use, and couldn't get the Chas and Dave song out of my head, (and I fancied a denim pocket purse craft) – Rabbit Rabbit Rabbit – exactly what you do when you are on the telephone? Yep – Soooo, I thought, iPhone wallet?
Looking around the house, I came across some old denim jeans in the bag destined for the charity shop, and as we love to upcycle in our house, cut the back pockets off! My quest for a denim pocket purse craft was realised!
Yes? Well I liked it, and so did the kids so I've made these for their iPods, using little self-adhesive velcro dots as closings on the inside of the denim pockets, and we're looking for a use for the little coin denim pocket – ideas welcome? Full instructions below…
Instructions:
Carefully cut the back pockets out of the denim jeans, so that you retain both layers of fabric, thus creating your OWN denim pocket.
Find (and iron) some contrasting fabric to applique onto the denim pocket purse for the rabbit shapes. (I used some fabric I had acquired from ReUsefulUK and my neighbour RedTedArt's hubbies old work shirt.
Print off the FREE printable rabbits template, to the scale you require for the three leaping rabbits to fit comfortably on the back pocket (the scale here is for a man's jeans, so you may find you need to print at 90% for smaller pockets).
I used Spraymount glue to lightly adhere the rabbit sheet to the BACK of the contrasting fabric, (so that when you remove the paper from the reverse of the rabbits, the rabbits will be facing the right way… your choice!)
Peel the paper template from the back of the rabbits. And position on the denim pockets. I used a PVA glue to stick the rabbits onto the denim pocket purse, and gave them a light coat over the top too…
Add your velcro dots to the inside of the pocket to make a secure closure.
These would make FANTASTIC little denim pocket purse bags for mini-eggs for a quick Easter gift too!
For other Spring and Easter ideas click here for our Daffodil cookies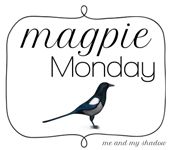 Ali also blogs over on aGreenerLifeforus.com and is a new lover of Instagram too… pop over and say hello! And I'l adding this to Lizzie's #MagpieMonday as I love to salvage, upcycle and re-use stuff!